Efficiency Nova Scotia Portfolio
BUSINESS CHALLENGE
Nova Scotia Power came to Summerhill in 2008 looking to leverage our expertise in designing and delivering programs in which the customer engagement initiatives would improve program performance and help achieve their province-wide energy conservation targets.
The client needed cost-effective energy conservation programs for both their residential and small commercial customers that would result in significant MWh reductions, create green jobs and improve brand recognition, while providing savings for consumers and reducing their environmental impact.
SUMMERHILL APPROACH & SOLUTION
Summerhill facilitated partnerships with local stakeholders to combine our expertise in program design, energy efficiency and conservation with local, on-the-ground knowledge of the culture and behaviours of Nova Scotians.
We established a framework to identify and evaluate the most cost effective and unique opportunities to achieve targets, keeping our clients priorities at the forefront.
We designed and delivered a wide portfolio of programs that includes Small Commercial and Residential Direct Install, Residential Appliance Take-back, Multi-residential Engagement, and Retail Engagement Programs.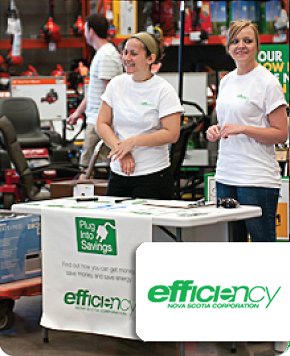 KEY RESULTS & IMPACT
Since 2008, executed five sector-specific, mass market, province-wide programs positively engaging thousands of Nova Scotians.
Achieved over 154 GWh of energy savings to the province to-date – and counting.
Consistently met and exceeded energy conservation targets each year.
Created local green jobs capacity through establishment of over 90 full-time jobs and over 300 part-time positions to-date.