Newfoundland and Labrador Hydro
Energy Efficiency Program
BUSINESS CHALLENGE
Newfoundland and Labrador Hydro (NLH) was looking for the design and implementation of customer-facing programs for hard-to-reach residential and commercial customers living in isolated diesel-system communities.
The program's objective was to reduce overall energy consumption and increase knowledge and awareness of energy efficiency in the 42 isolated communities, supplied by 21 diesel-powered systems across a 2,100 kilometre span of coastal Labrador and Newfoundland.
These communities represented a challenge because of limited shipping and travel access, large distances between communities, the need to serve unique cultural groups including Inuit populations, seasonal weather challenges, and limited customer knowledge and awareness of utility energy efficiency programs.
SUMMERHILL APPROACH & SOLUTION
With Summerhill's experience and lessons learned from delivering three pilot programs for NLH since 2010, we designed (and are now delivering) the three-year Isolated Systems Energy Efficiency Program to residential and small commercial customers in NLH's diesel systems.
The program's core component is direct installation of energy efficient products with additional components, including appliance and product rebates at local retail, seasonal lighting exchanges, block heater timer giveaways, basement insulation rebates, and a drain water heat recovery pilot.
Starting in 2012, the program uses community-based capacity and knowledge building to empower and engage local customers.
The program engages consumers to understand the long-term value of energy efficiency by tailoring outreach to each community through consultation with town management and field representatives, and offering energy efficiency education during community events and in-person install visits.
Hiring locally was important to build trust and local skills and provide flexibility and local know-how to accommodate the different cultures and needs in each community.
Development of English-Inuktitut program marketing materials was a first for NLH's conservation programming.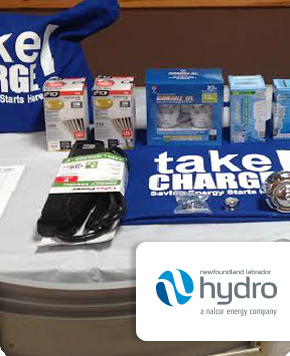 KEY RESULTS & IMPACT
Nearly 100% of all eligible customers were offered an installation in 2012 and 2013.
More than 90% of customers had an installation completed in their home or small business.
A total of 1,355 installations and 1,676 MWh, and 1,156 installations and 1,100 MWh in energy savings across all components were achieved in Year One and Year Two of the program, respectively.
We expect to offer installations to 1,275 customers with high uptake rates in 2014.