Oxford
Occupant Engagement Program
BUSINESS CHALLENGE
Oxford is a global real estate investor, developer and manager with a portfolio including some of the largest office and retail spaces in Canada. Oxford is a sustainability leader and inspires their tenants and building occupants to achieve their own sustainability goals as well.
In 2012 and 2013, Oxford selected Summerhill to deliver a robust and unique stakeholder engagement program to facilitate collaboration between property teams and tenants around sustainability.
With a goal of reducing Oxford's carbon footprint by 10% each year to 2015, Summerhill was hired to engage the building site teams, tenants and building occupants to drive improvements in building performance and increase awareness and adoption of energy conservation and waste diversion actions, while increasing customer retention and satisfaction.
SUMMERHILL APPROACH & SOLUTION
Leveraging our utility program experience related to MURB, Summerhill designed a program that, since January 2012, has created 15 Green Teams and facilitated over 100 Green Team Meetings in 27 buildings in Toronto, Calgary and Edmonton, with the objective of jointly defining respective building's sustainability goals, implementing best practices and facilitating dialogue among parties.
To engage occupants, Summerhill launched and delivered seven interactive lobby events and unique behaviour change campaigns that have contributed to true energy savings, reduced waste and improved recycling across the Canadian Oxford Office Building portfolio.
To raise awareness of, and to encourage energy conservation, the Gear Up to Less Energy conservation campaign was launched, featuring bike-powered workstations in the lobbies of office towers across Canada. The event demonstrated how much manual energy it takes to power a typical workstation. Tenants and occupants were then challenged to reduce energy during a three-week conservation campaign that encouraged people to turn off devices (e.g., printers, computers, monitors, coffee machines and task lights) when not in use, saving up to 40% energy per item.
Summerhill also launched the Oxford Recycles waste campaign in 2012 to engage building occupants to adopt waste reduction practices. Occupants were invited to visit their lobbies to test their waste knowledge by playing an iPad trivia game. Participants "dragged and dropped" typical waste items – garbage, recyclable, organic waste or e-waste – into their respective bins for a chance to win great prizes.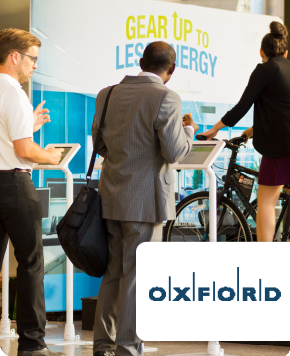 Our expertise in designing and delivering customer engagement initiatives assisted in overachieving portfolio-wide energy conservation and waste diversion targets.
KEY RESULTS & IMPACT
Established 15 joint landlord-tenant Green Teams in 27 office buildings across the Canadian Oxford Office Portfolio.
80% customer representation on average at quarterly Green Team Meetings.
To date, seven interactive lobby events held to encourage behaviour change for energy and waste reduction.
More than 15,000 participants in the Gear Up to Less Energy campaign, with an average of 37% more customers remembering to turn off their devices before leaving for the day or the weekend at participating buildings after each lobby event.
10,000+ occupants played the Oxford Recycles educational iPad game.