The Great Exchange
BUSINESS CHALLENGE
Summerhill was challenged by Toronto Hydro to execute a three-month campaign that would result in a demand reduction of approximately 1,300 net kW electricity reductions in Toronto.
The program needed to engage multiple stakeholders (multi-retail and multi-channel), and reach as many Toronto Hydro customers as possible.
The campaign needed to continue to increase Toronto Hydro customers' awareness and use of the energy efficient products available to them and promote the adoption of behaviours that will help reduce electricity consumption.
SUMMERHILL APPROACH & SOLUTION
As a delivery partner for many past Toronto Hydro campaigns, Summerhill designed and delivered the 2010 The Great Exchange campaign that paired the long-standing and successful Keep Cool program with a new energy efficient lighting exchange, including ENERGY STAR® qualified compact fluorescent light bulbs (CFLs).
Toronto residents were able to responsibly retire inefficient room air conditioners (RACs) and dehumidifiers as well as incandescent light bulbs in exchange for gift cards and CFLs, respectively.
The program was offered through four delivery channels: retail, multi-residential, schools, and community City of Toronto Environment Days.
Additional program components included peaksaver® promotion at retail events, and time-of-use education and outreach.
By combining multiple product exchanges under one program banner, widespread marketing and targeted outreach, the campaign efficiently and effectively drove customer participation, engaged and educated the public, and generated positive visibility and media attention for Toronto Hydro.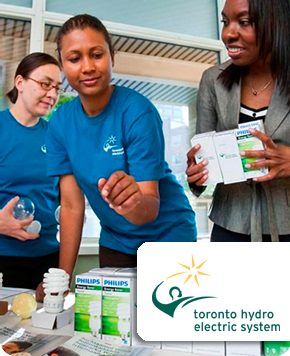 KEY RESULTS & IMPACT
Toronto residents understood the call to action and engaged in the program and energy efficiency through every delivery channel.
Events through the retail delivery partners – The Home Depot, Walmart and RONA – achieved fantastic success and a large proportion of the total energy savings. Across 250 unique events, an estimated 150,000 CFLs were given in exchange for incandescent bulbs; more than 8,300 RACs were retired for $25 gift cards; and more than 1,500 dehumidifiers were retired in return for $10 gift cards.
More than 1,700 total net kW of energy savings (approximately 130% of target net kW) between April and June in 2010, making it an incredibly successful year for Toronto Hydro's Keep Cool / The Great Exchange programs.
"We pride ourselves on environmental property management and are pleased to have been included in Toronto Hydro's efforts this year!" – O'Shanter Development Co.