MISSISSAUGA, Ontario – Summerhill is pleased to announce that it has been chosen by Enersource, Mississauga's local electricity distribution company, to deliver the utility's expanded peaksaver PLUS® program.  While the peaksaver PLUS® program is well-established in the residential sector throughout Ontario, Enersource is now offering the program to small business customers with the added benefit of remote web access to the thermostat.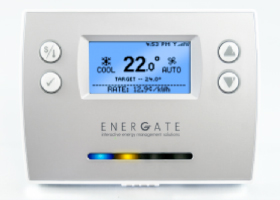 Energate Foundation Web-enabled
programmable thermostat
Through a competitive process, Summerhill's unique service offering was chosen to help Enersource launch the revised program, which focuses on the reduction of electricity consumption when demand is at its highest.  Summerhill partnered with Energate (manufacturer of the Foundation web-enabled programmable thermostat), Blue Line (manufacturer of the Blue Line Optical Meter Reader), and Trico (a local electrical contractor) to propose a solution that would fit the needs of business customers.
The new program is available to approximately 17,000 businesses in Mississauga.  By participating, small businesses receive detailed information and have more control over their energy consumption through a web-enabled programmable thermostat that displays near real-time electricity usage. Customers will be able to track their energy consumption and change the settings on the thermostat remotely, via web or smart phone app.
The peaksaver PLUS® electricity use adjustments may only occur on weekdays (not weekends or holidays), to a maximum of 10 times per calendar year, and is limited to four hours in duration, usually between 12:00 p.m. to 7:00 p.m. This may result in up to a 2-degree Celsius change in room temperature. Adjustment events can happen only from May to September, and participants can opt out in advance of any event.
"This is an elegant solution to the challenges faced when trying to meet the unique needs of small business clients. It gives participants more control and better usage information, and overall, helps to better manage the provincial energy grid," notes Ersilia Serafini, Summerhill's president.
"Blue Line has seen considerable uptake in the Ontario market as part of peaksaver PLUS®, but the small commercial market is a new growth area and we are very happy to be partnered with Summerhill to implement this innovative program for Enersource," notes Peter Porteous, CEO of Blue Line Innovations Inc.
For more information or to register for the program, please call 905-821-5705.
—
Media Contact:
Lenard Hart VP Sales & Marketing, Summerhill 416.922.2448 ext. 236 (or cell 416.898.0835)
—
Background information:
The Foundation thermostat features:
Programmable settings to economise on energy use when the business is closed
A built-in energy display provides near real-time data on electricity usage
Wi-Fi connectivity to monitor electricity consumption and thermostat control from a tablet or smartphone.
How the peaksaver PLUS® program works:
The more peaksaver PLUS® participants there are in the community, the more the program helps during peak demand times to create real environmental benefits.  Trained technicians will be visiting qualified Mississauga businesses to answer any questions about the program, as well as to complete installations. More than 200,000 Ontario residents have already signed up to help manage peak demand and create real environmental benefits – you can too!
Share this article